AGED CARE DIGITAL MARKETING
Aged Care Marketing
Online
: A guide to high performance lead generation for
Retirement Villages
,
Aged Care Homes
&
Home Care Package Providers
.
Greater Leads ® has a proven Aged Care Digital Marketing Lead Gen Strategy across Google Ads + Facebook Ads.
Aged Care Lead Generation Guide 2020
An Aged Care ads guide to high performance lead generation via Google Ads and Facebook Ads for:
Home Care Providers
Retirement Villages
Aged Care Homes
Aged Care Digital Marketing Strategy
Your digital marketing strategy means your overall holistic plan for achieving your marketing goals online. This includes:
Your objectives- do you want to raise awareness of your aged care home in the immediate vicinity or perhaps generate home care leads for Home Care services? It's important to define what success looks like in advance. What's your budget and how will you choose to allocate that across advertising channels, consulting, content creation etc.?
Your value proposition: what makes your Aged Care offering different from the competition?
The aged care advertising channels you choose to use such as Google Ads and Facebook Ads. Both channels have proven to be very successful for the Aged Care sector. There are more ads factors to consider such as the budgets, targeting, ad types and objectives for each ad channel campaign.
Your SEO strategy for free organic traffic
Your audience segmentation & targeting options, eg. targeting people over 65 years of age in a specific location, or maybe you want to target the adult children of potential aged care home residents
Your website page content you need to support your SEO and Ads
Any video production you might require
Landing Pages tailored to your ads. These are important as they can convert visitors to leads much more effectively than your website.
Downloadable "lead magnets" content such as Home Care Package factsheets, My Aged Care guidebooks and Retirement Village Digital Marketing Cost guides. These are great for Retirement Village Advertising top of funnel.
Call-to-Action strategy: what action do you want your site visitors to take? Call you, complete a form, live chat? Do you want them to download a PDF aged care guide or book a visit to an aged care facility?
Your organic Social posts
Your email marketing plan
Your digital marketing monitoring, optimisation and reporting plan
Technical requirements such as website hosting, landing page hosting, Google Analytics tracking, Facebook Pixel, Google Ads Remarketing Tag etc
 AGED CARE DIGITAL ADVERTISING
The best, proven channels for aged care digital advertising are Google Ads & Facebook Ads. You can use either or both of these channels very successfully (and they do work well together) and get started in minutes.
Successful digital advertising requires using different combinations of campaign objectives across your marketing channels. Although digital advertising is very effective it's also very easy to waste money so you need to be strategic in the campaigns you setup and have an overall plan for how the campaigns work together.
Ad Targeting & Audiences
A key to digital advertising is targeting the right users and audiences. If you do this right you'll set yourself up for success but if you do it wrong you'll waste a lot of money.
Targeting options you should use across Facebook & Google Ads:
Geographic: choose a radius around your location. This will be larger for rural areas and smaller for cities.
Age: 55+ is a good choice for aged care services, although you might want to go lower for adult children decision makers.
Exclude search terms via Negative Keywords: "jobs", "careers", "free", "Perth", "covid" etc
Exclude users who have already converted (contacted you)
Retargeting/ Remarketing
Retargeting (FB Ads) or Remarketing (Google Ads) means showing ads to users who have already visited your website. Retargeting is a great idea and very profitable as most users do not convert into leads or customers the first time they visit. Aged Care vendor selection can be a long process so it's vital to stay front-of-mind during this time.
Google Ads & YouTube Ads for Aged Care
Objectives & Google Ads Conversions
It's vital to define your objectives upfront and help Google Ads understand your goals. You should setup Google Ads Conversion Tracking and Google Analytics Goals for:
Learn more about the Benefits of Conversion tracking.
Google Ads Bid Strategies
There are many different bid strategies available in Google Ads. We recommend an automated strategy such as Maximize Conversions or Target CPA if you have a defined target cost per conversion. Manual bidding is possible but your time is best spent elsewhere and the automated bid strategies now get great results assuming you setup your conversion tracking correctly.
Google Ads Account Structure
Your account structure will usually mirror the services you offer and your website structure. You will need additional campaigns where you want to control budget or location specifically.
Google Search Network Ads
Google Search Network ads are text ads that show when users search for something on Google. These ads are incredibly powerful for lead generation. It's a quick, easy way to generate high quality leads.
One of the first steps is to use the Google Keyword Planner to find all the keywords relevant to your organisation:
Home Care Marketing Keyword Examples
Homecare advertising on Google Ads keyword examples:
"home care"
"home care services"
"home care provider"
"home care packages"
"home care assistance"
"home care agency"
"aged care services at home"
"in home care support agency"
"home help"
"home care package providers"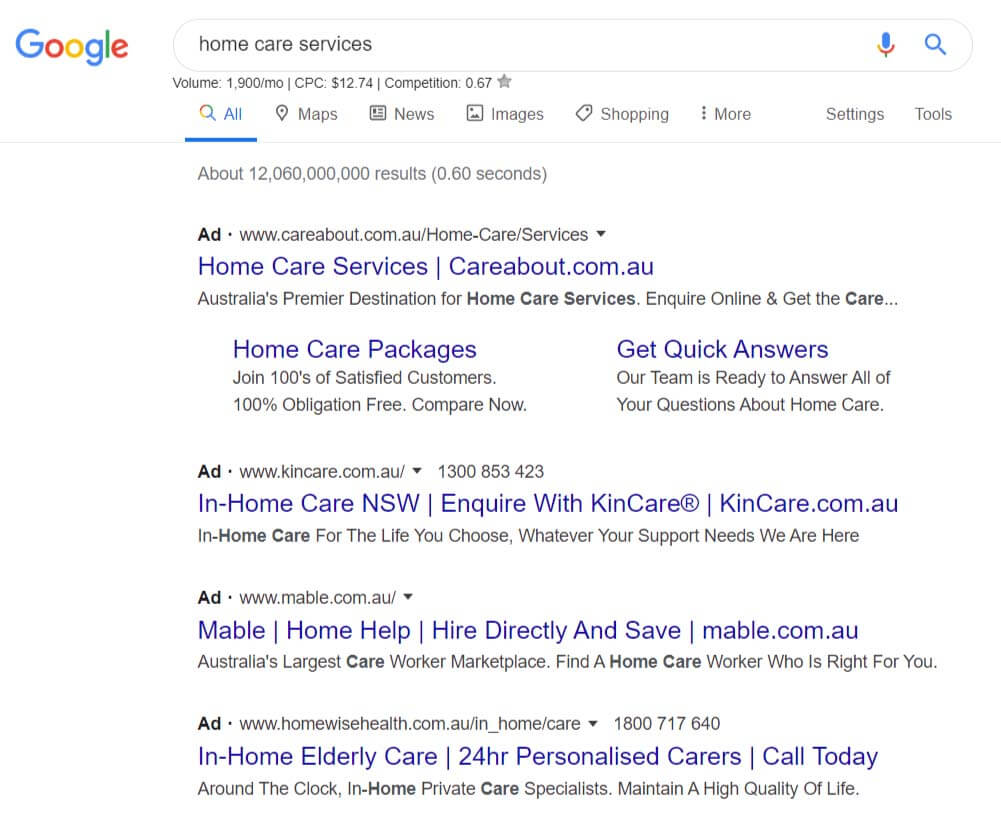 Retirement Village Marketing Keyword Examples
Retirement Village Google Ads (aka Retirement Home advertising) keyword examples:
"retirement villages"
"premium retirement village"
"luxury retirement village"
"retirement villages sydney"
"retirement villages near me"
"retirement village gold coast"
"retirement village costs"
"retirement villages central coast"
"anglican retirement villages"
"willowdale retirement village"
"over 55 living northern beaches"
"stockland retirement"
"willandra village"
"lifestyle villages"
"

lendlease retirement villages"

"aveo retirement living"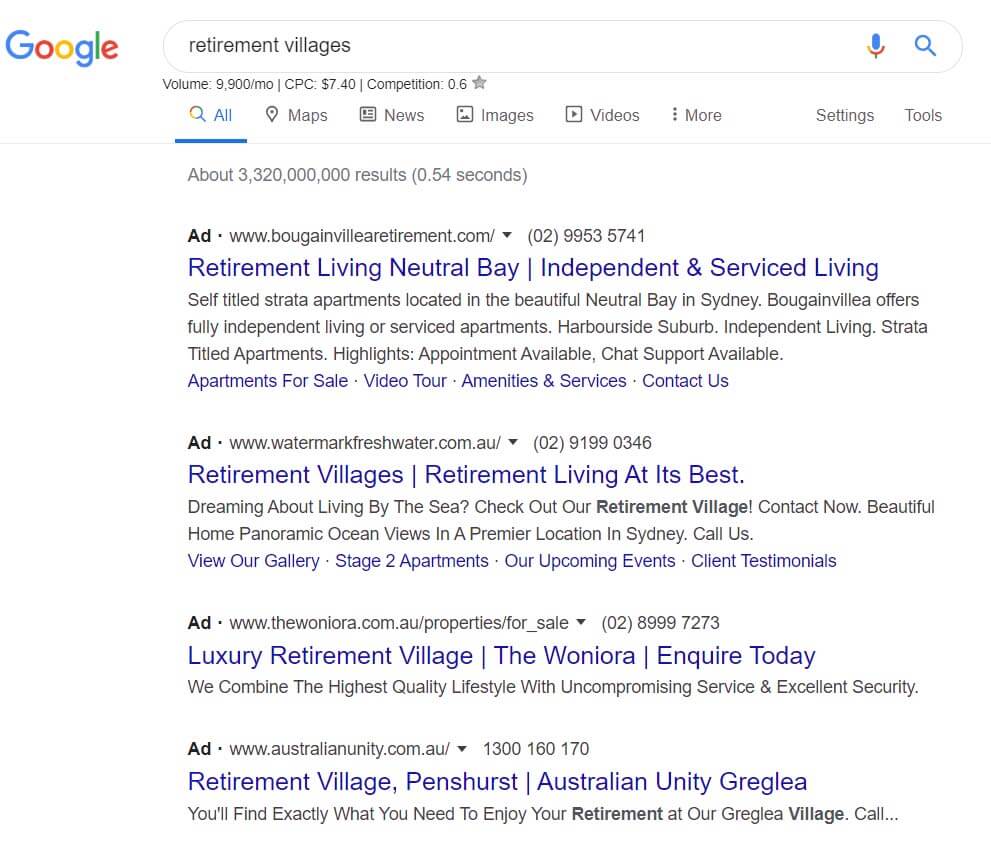 Aged Care Home Marketing/ (Nursing Home) Digital Marketing Keyword Examples
Aged Care Home advertising on Google keyword examples:
"nursing home"
"aged care near me"
"aged care facilities"
"aged care home"
"residential aged care"
"nursing home costs"
"kilbride nursing home"
"japara aged care"
"garden view nursing home"
"scalabrini nursing home"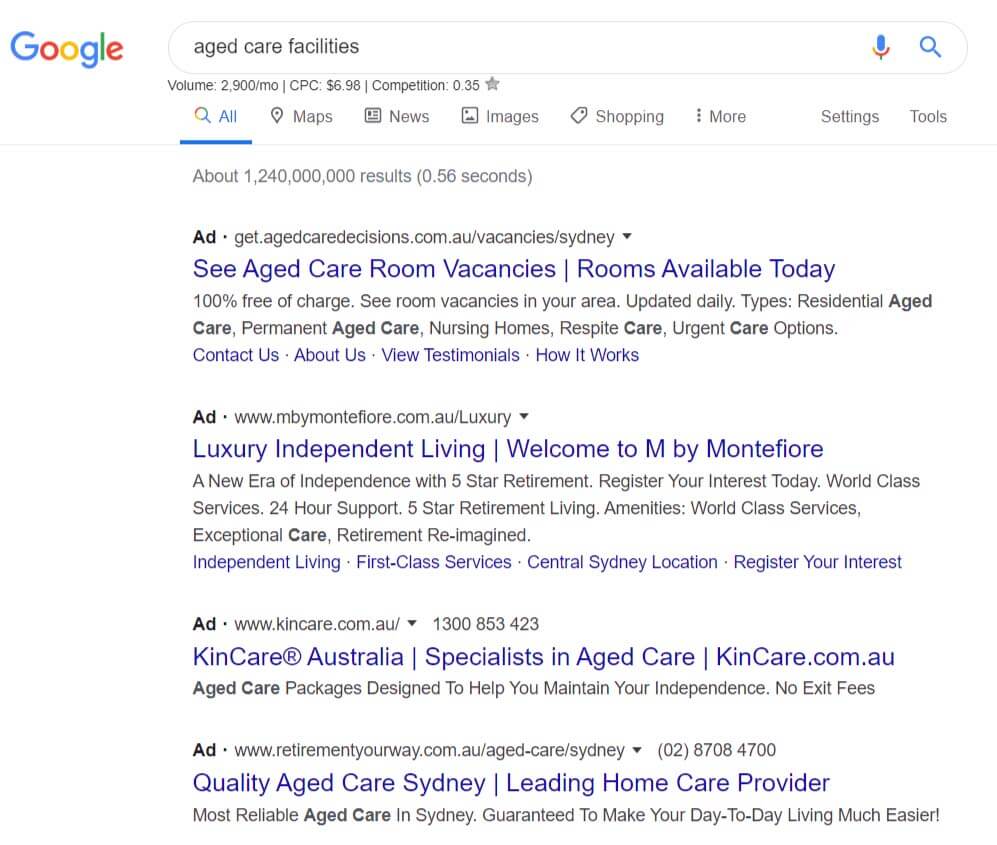 Negative Keyword Examples
These will save you money:
"royal commission"
"jobs", "careers"
"covid", "coronavirus"
"free"
Brand Keywords
You should always create a Brand campaign which contains your brand keywords. This enables you to control the message on your own brand searches.
Google Display Network Ads
Google Display Network Ads are made up from text, images and optionally video and show on many different sites all over the Internet. These are fantastic for raising awareness of your organisation, strengthening your brand and bringing valuable users back to your site (Remarketing).
It's vital to carefully target your Display Network ads so that you reach people who are interested in your organisation.
Google My Business
You need to setup a Google My Business profile for each of your aged care locations. The more completely your fill out the profile sections, the better you will do in Google Local Search: the more you will be found by your potential customers. You need to carefully complete your business name, address, opening hours, category, description, services. It is well worth fully optimising your business listing.
You link your Google My Business listing with your Google Ads account so that your locations (and their data) can show in your ads. This is important.
Google My Business Reviews
People make decisions based on reviews these days and aged care is no different. You should encourage reviews on your Google My Business profiles by including a link to your profile. You can send the link with emails after a positive interaction with residents, relatives and so on. Be sure to respond to all reviews and carefully handle any negative reviews that occur from time to time.
Geo Targeting
You should restrict the geo targeting of your Google Ads campaigns to areas where your potential customers will be found. This is usually a radius around your location. Eg. 5km in a built up urban area and 20km in a more sparsely populated region.
Demographic Targeting
You can target Demographic attributes like: Age (55+ and 65+ are good starting points), Gender (Females tend to do more aged care research), Household Income (don't promote a premium retirement village to people who can't afford it).
Audience Targeting
Google Ads "Audiences" should be used to target your Display Network ads to potental customers. Example audience types:
Video Ads on YouTube and more
Google Ads makes it easy to setup video ads on YouTube and other sites. Video ads are great for increasing awareness of your organisation and strengthening the brand. You only pay when someone views your video ad or clicks on the ad. Video is an excellent way to raise awareness quickly in a defined audience segment (eg. retirees) in a specific location (near your retirement home).
Remarketing
Google Ads Remarketing is a cost-effective way to remain front-of-mind and generate leads from prior visitors to your website. People often don't convert (contact you) straight away so it's important to continue showing ads to these people for a while after their visit. You can promote lead magnet content, for example a Retirement Village Checklist PDF to people who have recently visited your website. Your landing page would offer the Checklist for download in exchange for the user's contact details.
Remarketing policies prevent sensitive personalised user information being used to display ads. So we can't mention specific health issues or hardships.
Landing Pages
Google Ads almost always require a custom ad-optimised landing page. Many advertisers use their regular website pages as landing pages for their ads. This is generally a bad idea. For best results you should create custom landing pages for each topic you're advertising.
Great tools for creating landing pages are: Unbounce, Instapage, Leadpages, HubSpot.
Google Ad Grants (Free Ads!)
Non-profits can get $10,000 USD/ month in free Google Ads from the Google Ad Grants program.
It's easy to sign up and get started. But you must follow all the policies carefully or your account will get deactivated.
This is a great opportunity for non-profits looking to raise awareness. However Ad Grants ads are restricted and do not compete in the same auctions as paying advertisers. So it's hard to drive traffic where there is commercial competition.
Greater Leads has been successfully managing government and large non-profit Ad Grants since 2014.
Facebook Ads for Aged Care
Setup Facebook Business Page & Ads Account
You need a Facebook Page for your Aged Care Business to promote via your Aged Care Facebook Ads. Setup your Business Facebook Page. Or you could follow this quickstart guide to creating a Facebook Ad with Business Manager. You also need to setup a Facebook Ads account to run your ads.
Boost Posts
An easy way to get started with Facebook Ads is to Boost Posts that you've already created on your Facebook Page. However if you want more control and power then you should instead setup Facebook Ads (recommended).
Facebook Pixel & Facebook Event Tracking
It's strongly recommended to install the Facebook Pixel on your website. The Pixel tracks users who visit your site and interacts with your ads so as to optimise your ads and enables Facebook Ads retargeting these visitors with further ads.
Ideally you will setup Facebook Events to track user actions such as enquiry form completion, phone number clicks, live chat engagement. This enables you to measure campaign success and to optimise automatically for greater lead generation.
Create Campaigns with Different Objectives
It's important to use a variety of Campaign Objectives. A strong lead generation system can be built by creating multiple campaigns with these Objectives:
Brand awareness
Traffic
Engagement
Video views
Messages
Conversions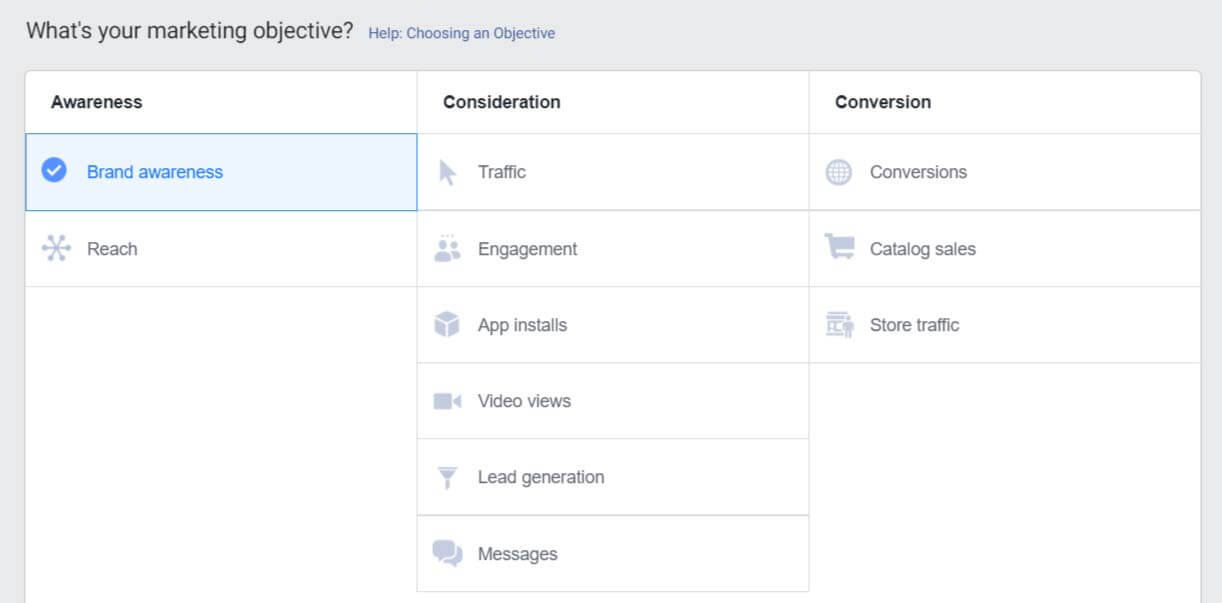 Geo Location Targeting
Use Location targeting to show your ads to people in the vicinity of your organisation: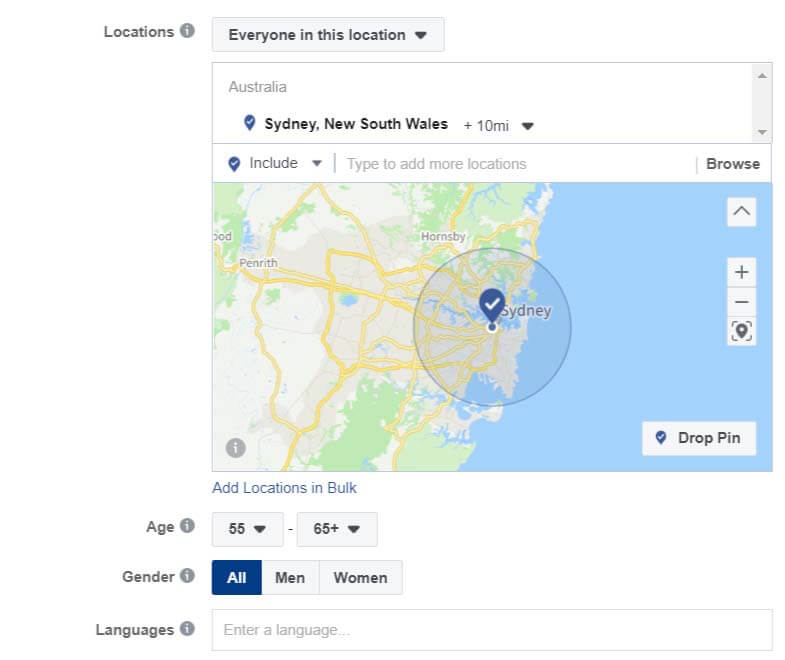 Audience Detailed Targeting
Use Interest targeting to target people who will be interested in your services or organisation:


Facebook Messenger
Facebook Messenger is a powerful tool for connecting with your prospective residents and their adult children. It enables a direct, persistent communications channel between your organisation and your future customers. We strongly recommend testing a Messages Objective campaign for Aged Care organisations.
Retirement Village Facebook Ads
Retirement Village Facebook Ads & Instagram Ads work really well for targeting retirees interested in a retirement village. The targeting is straightforward for cold audiences around your location. So you can drive awareness of your brand and also stay front of mind throughout the consideration process. You can even drive conversion (enquiries and sales) especially via Retirement Village Facebook Ads Retargeting including testimonials and benefit-oriented information.
Custom Digital Advertising Websites
We tend to prefer the power, flexibility and measurability of Google and Facebook but you can also have a look at advertising online at:
Aged Care SEO
The trick to SEO: "Make something awesome, don't just make a website". The Content on your website is crucial- it must speak to your intended audience and provide them useful and interesting answers to questions they have.
Important SEO elements to focus on:
Meta descriptions

Page titles

Page headings

Robots.txt

Structured Data

Site Hierarchy & Information Heirarchy

Breadcrumbs

Optimize Images

Avoid text inside images

Responsive, mobile-friendly website

Google My Business (local SEO)

Backlinks (link building) and site promotion & add to Google My Business
SEO Tools for Auditing & Tracking Progress
Moz
SEMRush
Ahrefs
Screaming Frog
A crucial first step for Aged Care SEO is Keyword Research. You should map your keyword topics to your sitemap so you focus each page on unique important topics. Example keywords that are likely important for you include:
retirement village, retirement villages nsw, over 55 retirement village, retirement village near me, retirement village cost, retirement village calculator, retirement village exit fees
aged care homes near me, residential aged care, residential aged care fees, services in residential aged care, aged care nursing homes, government funded aged care facilities, aged care home provider, list of aged care facilities in nsw, nursing home near me, nursing home central cost, aged care sydney, aged care vacancies
home care services, home care services nsw, home care services sydney, dementia caring, sydney in home care, home care services nsw, home care packages, home care packages fact sheet, home care packages costs, home care packages provider, home care packages program, government home care packages
Website Content for Aged Care
Website content is vital for Aged Care digital marketing. You must convey the message of your brand authentically and stand apart from the competition. You need to explain your services clearly to an older market. You need high quality images and video which aligns with your brand guidelines. Try to avoid stock photos- the same images can be seen on lots of aged care websites!
Lead Magnets are a part of your content that generates leads. Examples are Checklists, Guides and Factsheet PDFs for users to download in exchange for their contact details.
The Call to Action for each page must be clear- we need users to take action on every page. That might be filling out a form, calling, starting a live chat or possibly moving to more detailed content such as viewing pricing for a specific location.
Facebook Posts & Organic Social for Aged Care
Although the reach of Facebook organic posts has dropped they are still hugely important for digital marketing. We recommend posting only high quality, interesting and engaging posts. Then using the best of these posts to keep the MOFU (middle of funnel) audiences engaged with your brand via Engagement ads. Facebook is moving towards a paid ads platform for businesses now and organic social reach is far below what it was a few years ago.
Website Technical Setup
We recommend installing Google Tag Manager initially on your site and then using that tool to install Google Analytics and the Facebook Pixel. You can also use Tag Manager to track Google Analytics Events and Facebook Events that are aligned with your business objectives: enquiries, leads, call to actions etc.
 It's important that your site performs well and these tools can help audit the performance: Google Mobile-Friendly Test, Google Pagespeed Insights. You should also configure and review Google Search Console which will 
Digital Marketing Resources
Aged Care Advertising FAQs
How important is our website?
Yes very important! The ads don't work in a vacuum. They depend (generally) on the website or "landing page". If your website has problems we will make recommendations to fix it. We also build custom landing pages.
How wide an area should we target?
Generally it's good to keep the targeting broad at the outset.
Setup the form and phone call tracking properly and then find out what's working and what's not.
Allow the Google and Facebook algorithms to find the people that are interested in your organisation and offerings. Once we get enough data after a short time, we can start to narrow our focus.
Do the 55+ age group use Google & Facebook- do the ads work?
Yes the ads definitely work- give us a call and we'll explain our case studies. People of all ages use Google and Facebook now.
Additionally modern digital marketing can 'find' your target audience online through proper setup of conversion tracking (form submissions, phone calls etc). So it's less about precisely defining your target audience in advance. And rather about driving more of what you want: more enquiries via the website and phone.
Are newspapers more effective than Google & Facebook Ads?
No, newspapers are not more effective than online ads. Digital advertising on Google, Facebook & Instagram gets great results and is very cost-effective compared with print ads.
Google & Facebook Ads enable us to carefully target prospects who are interested in Retirement Villages, Home Care Services or Aged Care Homes. This might be through the Search Terms that people type into Google or the Demographic & Interest targeting of Facebook.
It's now the case that people of all ages turn to Google when they need to find a service or have a question. And Facebook and Instagram are also widely used by all age groups.
Additionally, we can track the ROI of online advertising so you can see the results you get from your budget.